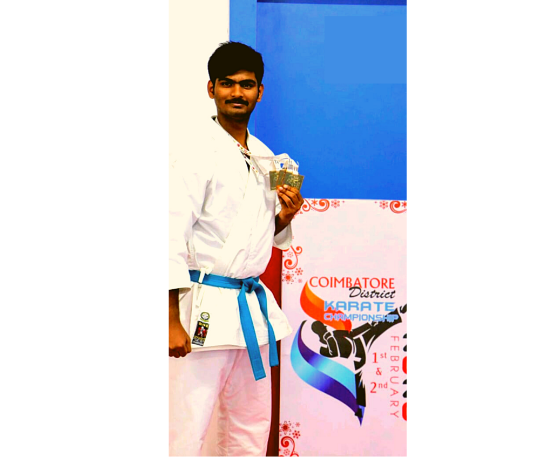 Bring out the fighter in you
Nagendran is a student from SNS College of Engineering, Pursuing a major in Electronics and Communication Engineering. His practice for Karate started when he was in 5th Standard. He shares that he loves watching Jackie Chan movies and the fight skills of Chan inspired Nagendran to learn Karate.

Nagendran reveals that his father made the right decision on making him joining the Karate class for his fruitful future. And his mom played an important role in the Karate life of Nagendran by waking him in the early morning at 4.30 A.M. and his dad was a travel partner to drop down him in the class. And Nagendran's turning point in hopeless life started to get brighter because of his karate masters - Mr. Shanmugam, Mr. Muthuraj, Mr. Karthick and Mr. Prem. The training masters of Nagendran helped him throughout the journey. When "I started to place medals in the tournament my master helped me to go higher level official tournaments", says Nagu.

His first award was to win Gold Medal in the Karate State Championship and also he placed a Bronze Medal in National Level Karate Championship and selected for the Common Wealth Karate Championship. But he couldn't able to win, and he shares that it was one of the greatest experiences in his life. He didn't lose his hope, he continuously started bagging medals in State and National Championship.  Nagendran shares, "My best success is placing a Gold Medal in the National Championship-2019, held at Chennai and then selected for the AKF(Asian Karate Federation). My family was one of the greatest support in my karate life and my master's training and practice are helping me to achieve more".

3 Golds in State

2 Bronze and 1 Gold in National