the badminton player, who hits 
through the ozone layer
Preethi Johnson Alumni (2021) from Aeronautical Engineering, SNS College of Technology shares her Successful story here. Hii! This is Preethi, I would like to mention some of my remarkable Achievements. I have placed a Gold medal in the All India National Badminton Championship held at Amritsar Punjab in the year 2019, placed a Silver Medal in Interzonal Badminton Tournament and also placed a Gold Medal in the State and District level Badminton Tournaments. I took my Badminton racquet when I was 12-year-old and it's been 11 years to date.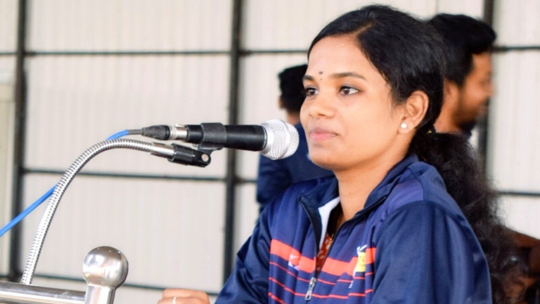 I am from a middle-class family where my dad Mr. Joy. Johnson is an electrician and mom Mrs. Malarvizhi is a homemaker and I also have an elder brother who is a differently able child. In my school, my name will always be present in the list of the students who haven't paid their fees. In spite of the entire financial crisis, my parents were always been there with me supporting me to reach my goal. Soon after my schooling, my only aim was to give my parents a relaxation from my fees. With God's grace, I stepped into SNS institutions where they respect the young talents and our college management provided me with a full scholarship sports quota. It was motivating me to achieve more and to put more hard work than before which pushed me to step into the National Championship once again and also to win a Gold Medal over there. Now I am into the next milestone of my life hoping that I have a very long way to go with my carrier. I will always be grateful to my College Management, our beloved staffs and my parents who have always been there with me supporting me both physically and mentally to overcome my hurdles.

Selected as a nominee for an all-rounder performer of the year 2018.
Secured, winner position in youth Badminton Nationals held at Amritsar Punjab (2019).
Secured, winner position in Anna University zonal Badminton Tournament (2018 and 2019).
Secured 6th rank in Anna University representation from the Interzonal Tournament.
Third place in the state level Badminton tournament held by "Lion's Club International" Sivakasi.